---
Diagnostic Difficulties with Polychaetes
in the genus Pista (Terebellidae)
.
Marine Biology Laboratory
L. A. County Sanitation Districts
---
[This online document is not intended for permanent scientific record.]
[It should not be cited elsewhere for nomenclatural purposes.]
[Please contact the author for further information.]
---
Published comments demonstrate that observed differences in polychaete anatomy cannot always be reliably used as diagnostic characters. Pleijel (1988) stated that correct species level identifications are rare in many museum collections within the genus Phyllodoce. He accounted for this in part from reliance upon inadequate descriptions and that "determinations generally appear to be based on the traditions of different institutions." As a result "the characters used for separating the species in both keys and descriptions often merely add to the confusion."
Identification of local Pista species also suffers from some diagnostic inadequacies. These difficulties are the result of confusion about the characters used for species diagnosis. Terminology and descriptions used for Pista in the literature are typically non-uniform and open to interpretation by the reader. Emphasis in the literature (Hutchings and Glasby, 1988; Kritzler, 1984; Hobson & Banse, 1981; Hartman, 1969; Fauchald, 1977) has been placed on the use of branchiae, lappets, and uncinal shafts as diagnostic characters. Various terms have been used to describe branchial features. Terms include: whorls, tufts, dichotomously branched, spiralled, plume shaped, irregularly branched, loosely branched, richly branched, dendritically branched, arborescent distal ends, spiral topped with dendritic branches, filaments simple, and spiralled. This level of non-uniform terminology obviously confounds efforts to produce reliable identifications.
The shaft length of the thoracic uncini has been routinely relied upon as a hard tissue condition that is less variable than soft tissue such as lappets or branchiae. Confusion over diagnostic use of these shafts is now obvious. The early report by Moore (1923) describes the base of posterior thoracic uncini in P. disjuncta as being a "delicate ligament." In a discussion on the generic characters of Pista and the contradictory descriptions of Pista cristata, Banse (1980) includes Day's (1967) statement that only the uncini of the anterior thorax have posterior handles. However Banse later noted ."..these elongations can usually be seen in the tori with double rows of uncini only after macerating the dissected series of setae mechanically or chemically (emphasis added); Therefore it is possible that the methods used by those authors failed to find the posterior handles." Hutchings and Glasby(1988) point out that most Pista species are known to possess long handled uncini in the anterior thoracic segments and that most existing descriptions do not include (emphasis added) descriptions of posterior thoracic uncini. They speculate that "perhaps this feature is more widespread than appears." They describe long handled uncini as being "pronounced chitinised shafts." Safronova (1988) commented: "The degree of chitinization of the setal (shaft)...is variable in both the genus and in species...(The degree varies with age in P. bansei )...this indicates that the taxonomic significance of this character...has been greatly overestimated."
Much of this problem arises from the method used to observe the uncinal shafts. Thoracic uncini dissected from the body wall often appear to possess little or no shafts. The difficulty in viewing these "handles" clearly comes from the ease with which they are obscured by adjacent uncini and body wall tissue. Tightly packed double rowed uncini often lay overlapped upon each other and obstruct the viewing of uncinal bases. The refraction of light through soft tissue also seems to obscure the embedded shafts. However if the same dissected fascicle is turned over on the microscope slide so the fascicle is viewed from the interior body wall perspective or fully dissected into individual uncini, then long handles can be seen.
The two images included here demonstrate the extent of this observational difficulty.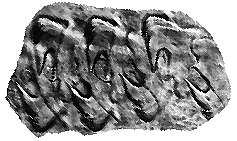 The dissected fascicle shows the condition with the uncini appearing to have no extended "handle" or shafts.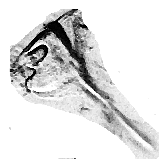 However upon single uncini dissection from this fascicle, the uncinus can be seen to possess a well developed shaft. Dissections of uncini from numerous specimens in Southern California (identified as Pista disjuncta) has shown that nearly all possess long straight uncinal shafts in posterior thoracic regions. Based solely upon the possession of long handled shafts on posterior thoracic uncini, these specimens better fit the published description for Pista fasciata.
Literature Cited
Banse, K. 1980. Terebellidae (Polychaeta) from the northeast Pacific Ocean. Can. J. Fish & Aquat. Sci. (37): pp 20-40.
Day, J. H. 1967. Polychaeta of South Africa. Sedentaria. Publ. Br. Mus. (Nat. Hist.) 656: 459-878.
Fauchald, K. 1977. The Polychaete Worms. Definitions and Keys to the Orders, Families, and Genera. LACMNH Science Series 28.
Hartman, O. 1969. Atlas of the Sedentariate Polychaetous Annelids from California. AHF.
Hobson, K. D. and K. Banse. 1981. Sedentariate and archiannelid polychaetes of British Columbia and Washington. Can. Bull. Fish & Aquat. Sci. (209).
Hutchings, P. , C. Glasby. 1988. The Amphtritinae (Polychaeta: Terebellidae) from Australia. Rec. Aust. Mus. (40) 1-60.
Safronova, M. A. 1988. Cosmopolitan distribution of Pista cristata (Polychaeta, Terebellidae). Zoologicheskiy zhurnal (67):888-897.
Kritzler, H. 1984. in: Taxonomic guide to the polychaetes of the northern Gulf of Mexico. eds: Uebelacker, J. M., P. G. Johnson. Vol 7, Chapter 52: 40-51.
---
Supplementary comment from Chris Glasby : "Hutchings and Glasby (1988) reported 'long-handled uncini' in all thoracic segments in five of the nine Australian species of Pista. In the other Australian species 'long-handled uncini' occur back to segment eight to eleven only. The generic diagnosis of Pista should therefore reflect this greater distribution of 'long-handled uncini' over thoracic segments.
---
Last update 21 October 1996 by
Geoff Read
---
Cite as: Parker, Thomas [mblcsdla@netcom.com] "Diagnostic Difficulties with Polychaetes in the genus Pista (Terebellidae)." [http://www.keil.ukans.edu/~worms/pista.html]. June 1996.
---